High Efficiency Brewing System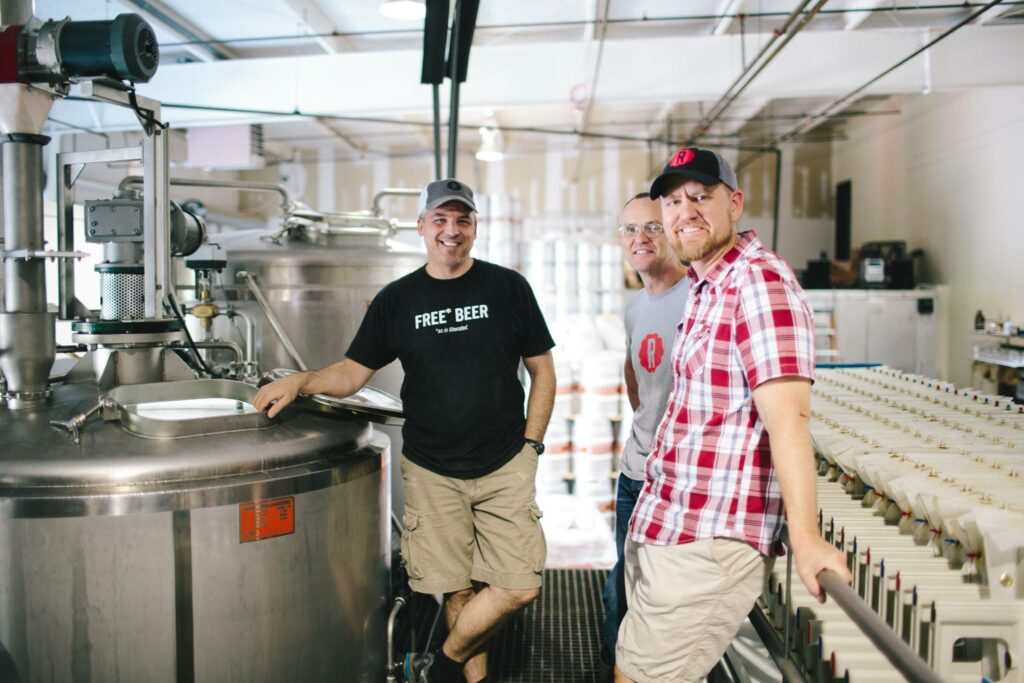 New Beginnings
In May of 2015, Reformation Brewery in Woodstock, Georgia installed and started operation on a High Efficiency Brewing System (HEBS).
Developed in Australia by iDD Products, the HEBS uses 40% less water and up to 20% less grain than conventional brewing systems, paying off as both a cost-saving measure and an important step toward preserving the Etowah River Watershed, from which the brewery draws its water supply.
With the help of a hands-on tutorial from the system's creator, Jeff Gunn, and some guidance from Chris Anderson at Coachella Valley Brewing Company (California) and Scotty Morgan at Rocks Brewing Company in Sydney (both of whom also brew on a HEBS), the new system is helping meet increasing demand for Reformation Brewery beer in Georgia.
Lightening the Load
The third brewing system for Reformation over the last year, the HEBS raises capacity from 3-7 barrel production to approximately 17.5 barrels. The High Efficiency Brewing System provides the ability to turn over the brewing cycle five times in a 13-hour day, lightening the load in more ways than one.
"For me, the biggest benefit is time. Knocking hours off our brew days allows me to spend more time with my family. And the malt is augered in and exits on a conveyor belt which means no shoveling out the mash tun. In Georgia summers, that is a big deal." — Co-Founder and Brewmaster, Nick Downs
Nick adds that the increase in production with fewer resources translates into more affordable beer for the consumer. "There is a lot of pressure on grain and hop process year to year," Nick notes. "Because of the HEBS, we use less grain and can keep our prices in check."
COO Bjoern Jembsy is also pleased with the change. "I also love the ability to run many small batches fast thus enabling variety without it becoming too expensive. This has the added benefit of giving our brewers some of their lives back!"
Innovation
The new system also provides opportunities for innovation, opening up the possibility of using unmalted grains to provide unique flavor profiles. And with more time to explore future styles, the brewers can also focus on improvements to the existing lineup.
Although the technology isn't new–iDD HEBS creators point out that "macro brewers have had access to this technology for nearly 45 years"–issues of cost and scale have previously been prohibitive for smaller breweries working on a limited budget.
With only eight iDD HEBS systems currently in operation in the US (and only 12 worldwide), Reformation Brewery is proud to be among the few taking this innovative step. Co-founder and CEO Spencer Nix says the decision to move to the new system was both practical and personal. "I love that the HEBS aligns with our value of moderation. It helps us maximize resources, freeing us to balance more out of life. Quality of life translates into quality of beer."
Meeting Demand
"We've struggled to meet demand in this first year. It's a good problem to have," Spencer admits. Increased capacity and shorter brewing cycles with the HEBS mean more Reformation beer in the market.
And for Reformation enthusiasts like Cheryl, the return of their favorite beer to local taps is welcome news. "I'm thrilled that more restaurants will be carrying Providence soon, so I can enjoy my favorite craft beer on tap when I'm out." (Cheryl Francis, Marietta, GA)
The new system will also help Reformation meet their goal of bottling "Commons" (22 oz bottles) which will be made available exclusively in the Keeping Room. Spencer Nix says they also hope to be able to offer 12 oz bottles in 6-packs and 12-packs by the end of the year.
Recommended Viewing: