Pints + Pie – A Perfect Pair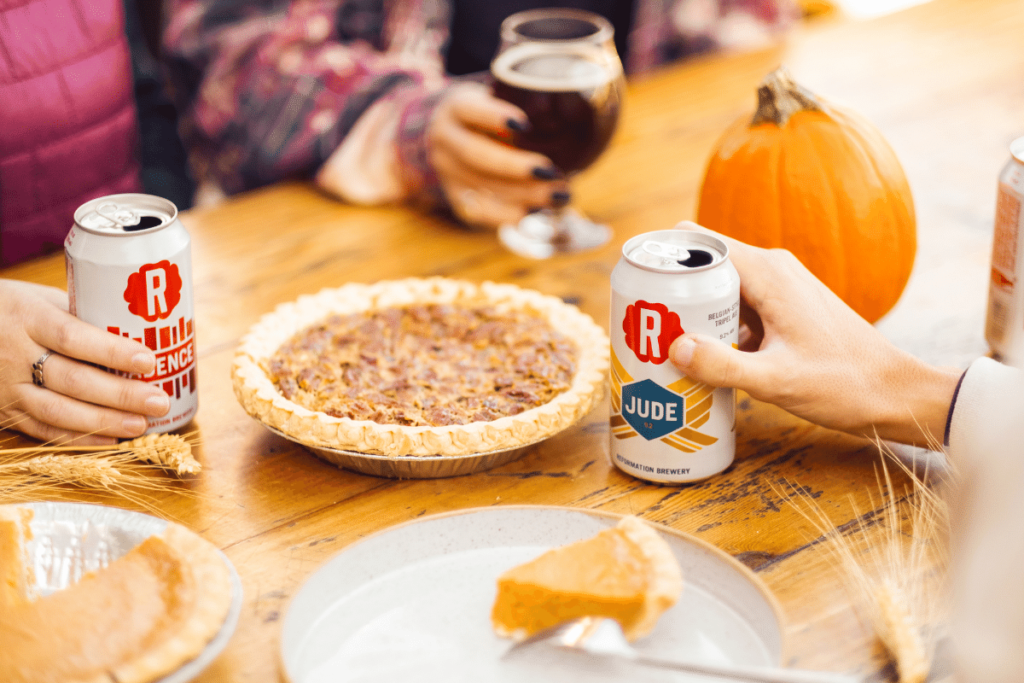 'Tis the season to celebrate, and what better way than with pie and beer?
Whether you're committed to classic flavors or seeking inspiration this season, these pie and beer pairings will give you reason to raise a glass!
PUMPKIN PIE
(+) Porter or Stout
Profess your pumpkin pie love alongside a glass of beer and see your favorite spices shine in a whole new light.
Go classic with our toasted porter, and introduce your slice to Stark as a liquid companion. With roasty malts that lend hints of chocolate, this pairing offers up a classic contrasts like coffee & cream.
Get inspired and take traditional warming spices to another level with our Festive Stout, Scout The Storyteller. Dark vanilla & cinnamon, and a slightly creamy finish will have you thinking pie crusts with or without the real thing alongside.
APPLE PIE
(+) Belgian Tripel or Brut IPA
For a perfect beer-to-holiday-pie ratio, pair your apple pie with our trusty Belgian Tripel for a classic combination that adds up to amazing. With its delicate floral aroma and clean citrus finish, Jude pairs well with moments of providence!
When paired with traditional flavors of apple pie, a champagne-inspired beer brings a unexpectedly light twist. Highly carbonated with notes of melon, pear, and apple with a dry champagne finish, Nolan the Wanderer is available as a Brut IPA this season.
PECAN PIE
(+) Belgian Ale or Barrel Aged Belgian
Whether you pronounce it Pea-can or Puh-khan, most southerners agree that this pie is a must have at any holiday gathering. Cadence, our Belgian-style Ale, is a classic pairing for this ooey, gooey pie, with its deep fruit aroma, figs, and hints of caramel.
A reformed twist on our classic, a Pinot Noir barrel-aged Cadence combines familiar red wine tannins and dry finish with balanced caramel sweetness for a quirky combination that will surprise and delight. Whichever Cadence you choose, may they compliment this southern favorite, and allow you to toast to moments of gratitude and the enjoyment of good gifts!