5 Festive Friendsgiving Pairings to enjoy this Fall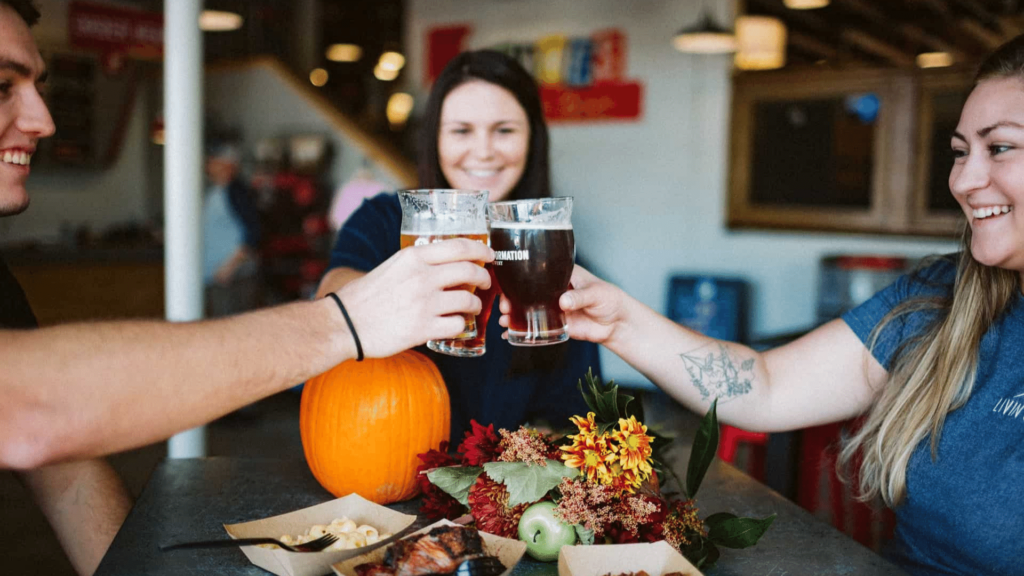 Whether you're hosting or gathering at someone else's table, here are a few festive Friendsgiving pairings to fill your cup–and your belly.
Is there anything better than dancing it out in your kitchen as you chop, mix and serve? JOGR is the pre-dinner preparation sidekick that'll encourage you to get in the groove before your friends and family arrive. If you're the type to snack as you cook, grab a handful of roasted chickpeas as you go. The salty, crispy veggie pairs well with our juicy citrus lager and impromptu kitchen dance parties.
You've worked to prepare a delicious meal–now enjoy the gifts of your hard work before your friends and family arrive. Take a breath and sneak a few moments of gratitude for the real, authentic connection that comes from being surrounded by people you love. Pair this moment with our classic Belgian double, Cadence, and count the good gifts of a well-lived life.
Friends have started arriving, bringing laughter and stories galore. Raise a glass of our toasted Porter, Stark, and toast to finding balance despite the noise. (A noteworthy accomplishment, especially with a full house of hungry friends and family.) Savor these moments with a side dish like sweet and smoky Brussels Sprouts, or smoky spiced pecan sweet potatoes.
Before sitting down to feast, and especially if you've been asked to share a few words, gain a little liquid inspiration from Georgia's gold, our Belgian Triple, Jude. These moments are best celebrated with friends and family, paired with a classic smoked turkey, or a bite out of homestyle cheddar mac and cheese.
Wind down your evening with the good tradition of board games and beer. Scout, our festive milk Stout, can be enjoyed as a great end to a good meal on its own, but also pairs well with a slice of your favorite pie and a game of friendly competition. Challenge friends and reconnect with a classic like Clue or Monopoly. Or introduce a new favorite like Space Park, our collaboration with Keymaster Games, that explores the galaxy alongside quirky helper robot, Scout.
No matter if or when you celebrate at home, we invite you to bring your friends and raise a glass to celebrate the gift of friendship, stories and new moments.