Farm to Tap: Reformation Coffee Liqueur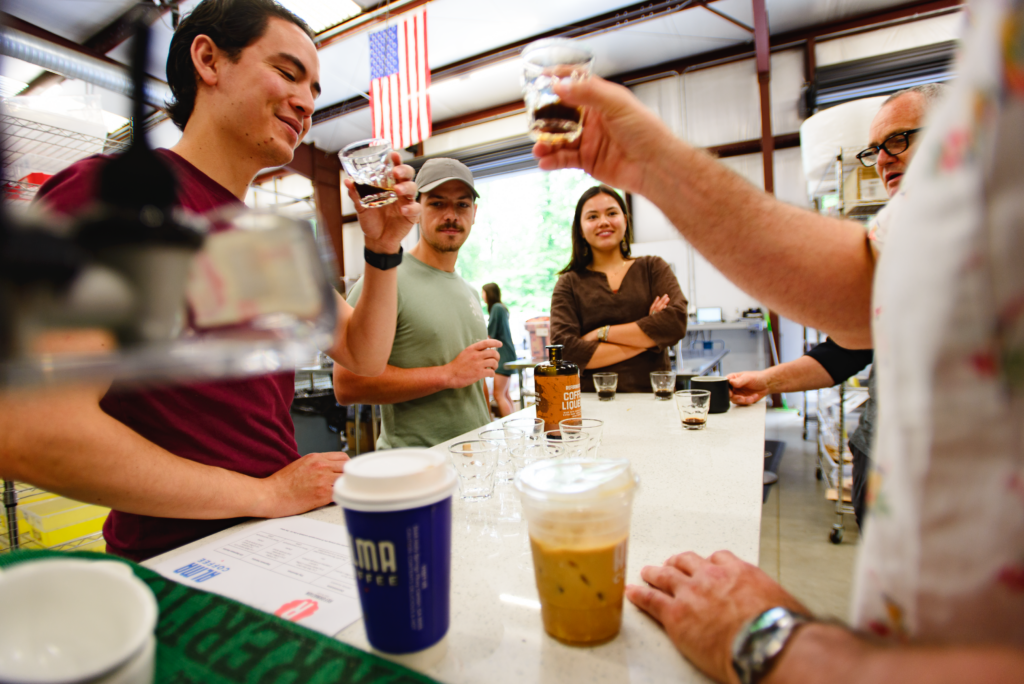 Raise your spirits because we are about to spill the beans on our newest product from our Reformation Craft Spirits line.

From the aroma of their roastery and cafe to the warm hospitality and smiling faces of their team, Alma Coffee continues to be a valuable partner and an asset to our local community. When we had the opportunity to collaborate again with our friends on another unique product, we knew it would be a great story and delicious product.

Recently, our leadership team was honored to visit their Cherokee-based headquarters conveniently located off of Holly Springs Parkway in Canton for a tour, story updates, and a special tasting of our brand new Coffee Liqueur. In Spanish, "alma" translates to soul and makes up the spirit of this recipe and the soul behind the story of good drinks and great friendships.

*The Coffee Liqueuer releases this Friday, June 2, 2023, and can be purchased online for brewery pickup in our Woodstock and Canton taprooms.*

With a dark, rich coffee profile supported by cacao and vanilla, this Reformation offering features Alma Coffee's extra dark roast – Ember– containing subtle notes of double chocolate cake, berry compote, and burnt marshmallow. North Georgia Made and naturally gluten free, our third-ever liqueur, behind our Black Currant Liqueur and Orange Liqueur, goes down bold and smooth and pairs nicely in a cocktail with our Reformation London Dry Gin.

Pair it with that after-dinner dessert gathered with friends after a long, hard day or that lunchtime break with your coworker when you need that smooth pick-me-up. This liqueur is great as an espresso martini paired with your favorite vodka or gin with espresso and simple syrup garnished with cream and coffee beans. The perfect uniter of your favorite morning and evening drinks, this liqueur marries the best of AM and PM: coffee and spirits with a vodka base. Now you can start your days and end your nights with coffee in style.

It's said that coffee tastes better with friends, so Coffee Liqueur must taste even better (we may have just made that up, but it feels true). Whether you grab a bottle for yourself or as a gift for that next get together, get ready to enjoy the bold smooth flavors of this delicious drink. Gather around, celebrate the moments, and raise a glass (and your spirits) together. There is a story in every cup.
"The Alma team has been honored to partner with Reformation Brewery and their amazing team since the very beginning. What began as one roast has evolved into seasonal releases, lifetime friendships, and now this coffee liqueur. When you think of North Georgia, you think of small business, community, and…Reformation Brewery! Reformation's uncanny support of other small businesses is why it has become such a staple in Georgia.

We are proud to see this next chapter of our partnership and can vouge in saying how absolutely delicious it is. Our team got to enjoy the coffee liqueur straight, no ice, nothing added and it BLEW US AWAY! We can't wait for everyone else to try it!"

Leticia Hutchins, Owner & Founder, Alma Coffee