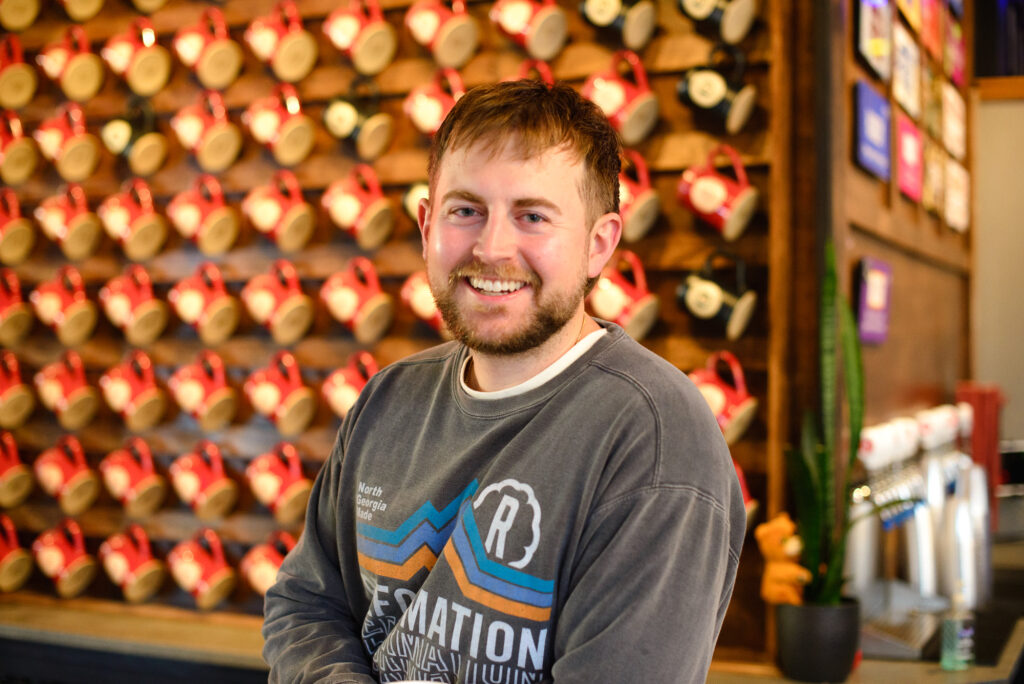 "I love that we are not just a job but we are a community. Every single person who works here is friends with everyone else who works here." – Paul Clark

---

Meet the Crew: Paul Clark

STORY

Our Reformation Crew is the backbone of who we are and what we do. They are often the unknown faces and stories behind the well-known places and products you love. You can't taste our drinks or enjoy our spaces without interacting with one of our incredible crew members.

This is why we launched a brand new series this past May highlighting our crew and featuring their stories called, "Meet the Crew." Every 4-6 weeks, we will feature one crew member in a blog post and a fun video on social media to share their unique roles and personalities. So you can get to know the stories behind the faces. | Check out past features and faces by visiting our Stories tab.

FEATURING: Paul Clark, Project Manager, "Making sure everything we have works and looks great!"

For our next crew member, we want to introduce you to the resourceful, playful, jack-of-all-trades, and husband to Danica, Paul Clark, our Project Manager. With Reformation since 2019, you have probably seen Paul walking the yard to check on guests, adjust a T.V., install a sign, setup new lights, build structures, or even painting our newest mural in the Woodstock taproom (a quote and landscape inspired by one of Jonathan Peyton's songs).

Although he started as a bartender (or "beertender" and host, as Paul says) and moved more into a project management and venue experience role, when he's not creating, fixing, or building, you can still find Paul interacting with guests, guiding them through the menu for a delicious product, laughing with fellow service crew, or joining a team meeting to find out how to keep our venues working well and looking great. With a sharp eye for detail, endless ideas for improved guest experiences, and a strong opinion about almost everything (we love you Paul!), he pours his heart and soul into his craft and loves working with a coworkers he considers friends and family. Paul's hard work, work ethic, and his can-do attitude bring an infectious energy to our culture to always be reforming.

When Paul is not fixing and figuring, he can be found with his wife Danica and their furry kids hiking, hanging with friends, on the lake, or experimenting in the kitchen.

Get to know more about Paul and what makes him who he is in the full video story and Q&A interview below.

Behind-the-scenes video story of Paul in his element and in a sit-down Q&A interview.
---
GET TO KNOW PAUL CLARK– Q&A
Do you have a fun nickname at work?
"I go by Danica's husband a lot. That's always fun. Um, 'You'. Ha. No, I don't have any nicknames here. There is one nickname but this person doesn't know that I know they call me this so I won't throw that out there."
Who do you laugh at the most and why?
"Oh gosh, all we do is goof around and have a good time. We get a lot done but we laugh a lot. Probably Lyric, it's gotta be Lyric. Danica scares me too much, I got to stay on my toes around that one."
Favorite part of your job?
"I love that every week I am on a new challenge. I love that I can come in and be given crazy problems that I get to creatively solve. I love that every single day I wake up it looks different than the day before. I love being able to wake up and never get bored of my job."
What is your all-time favorite Reformation moment?
"Oh, this is an easy answer. Such an easy answer. New Year's Eve this past year (Dec. 2022) at The Keg Drop. The keg dropped, I got to kiss my wife and jump up on the container as the confetti went off as the Bulldogs beat Ohio State and it was spectacular. Go Dawgs!"
What is your favorite Reformation beer and the most underrated?
"The beer snob in me says my all-time favorite is Gluten Tog, our pumpernickel Dunkel. The not-so-beer-snob kid in me loved the Pineapple Milkshake IPA when I first got hired. Milkshake IPAs are almost always way too sweet and thick but this one was unreal. The most underrated beer we've ever had could be the Watermelon JOGR we had – we only had two kegs of it. Or it could be the Peanut Butter Cup Porter we have on tap right now."
What are some hidden talents or special interests?
"I have a little bit of ADHD so I have a new special interest every week. I love love love documentaries. If I could sit down and watch a documentary every day, I would. I would get nothing done and my wife would not watch them with me. I just got out of my crime documentary phase and now into my food science phase researching what happens when you dry out oranges. Or what happens on a chemical level when you smoke meat. It's an all-time hobby of mine. I think I am pretty good as a home chef. I like to cook a little bit of everything. I love smoking meat; what guy doesn't? I love experimenting with fermentation which is what I got my Masters in. I can throw down on a mean steak or seafood. I love making kombucha."
The most unique place to enjoy a drink with friends?
"It's hard to get away from Reformation. Everything about our venue and our products I love. Other than here, I love having people over to our house and hosting and having cocktails."
Beach or mountains?
"Summer? Beach. Winter? Mountains. I grew up in the mountains and I love them. So, mountains."
Favorite outdoor North Georgia activity?
"I love hiking and backpacking. You got to go to Jack's River Falls in Cohutta. It's absolutely wonderful."
Ultimate Walk-up Music?
"I have thought about this question a hundred times. Maybe Bullets by Creed. Back in the Saddle by Aerosmith. My music taste is all over the place. Anything by Turnstyle."
Famous person, dead or alive, you'd want to spend the day with?
"Probably Ronnie Van Zant, the original songwriter and singer for Lynrd Skynrd. Half the band died in a plane crash in 1977. But their whole thing was, 'We are rock stars but we go home and cut our grass on weekends just like you.' Super down-to-earth.
Favorite genre of music?
"It's got to be 80's. I think music is on a 15-year cycle where it peaks and then it gets bad and repeats. We're on the way up to a peak. I think the early to mid 80's was a peak peak."
Where are you from and where do you call home?
"I call Woodstock home so it's convenient to pop in and make sure everything is running smooth. I grew up originally in Woodstock but before that, I lived in West Virginia. It has a wonderful community culture and a unique social identity. They love to embrace the Appalachian culture. I miss the snow a lot."
What is one thing you love about Reformation culture?
"I love that we are not just a job but a community. Every single person who works here is friends with every other person who works here. It's incredibly collaborative and every person is cooperative. We are probably the most coherent group of coworkers that I have ever been in."
What is one thing you are super excited about for Reformation's future?
"I am excited for us to continue to grow as a community gathering place not just a brewery. We are really pushing into directions that just encourage people to spend time here – to work from here, to meet here, to just gather with their friends here. I think that is something we are missing in our society in general."