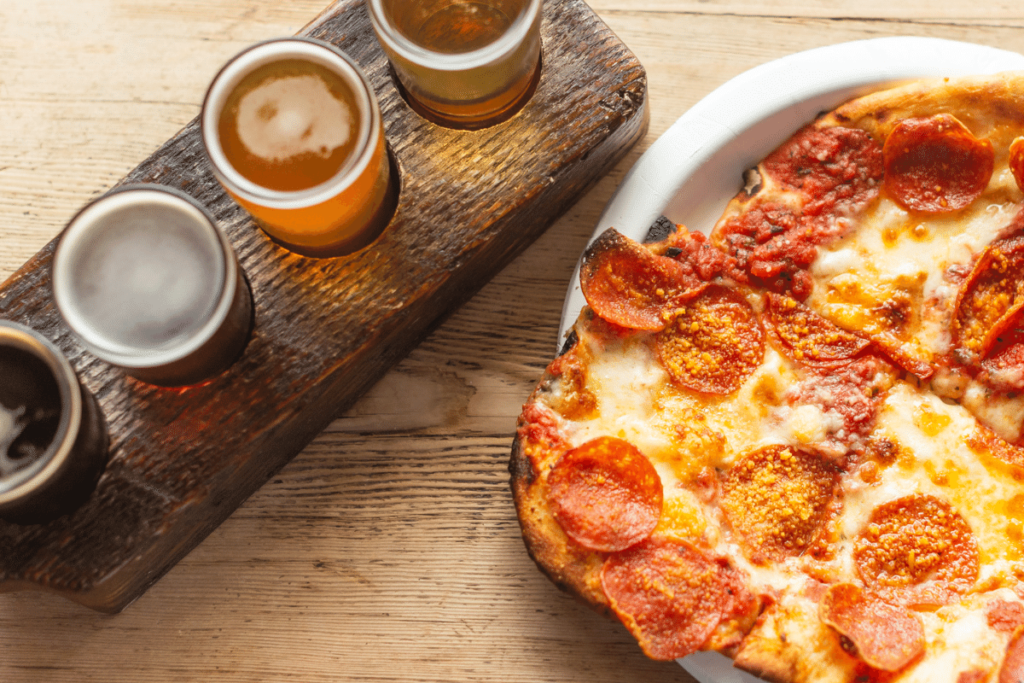 You could say that we're totally into all things Pi Day: it's a chance for us to get together on March 14th and celebrate our favorite mathematical constant (the ratio of the circumference of a circle to its diameter — approximately 3.14159…..) our favorite beverage (beer, of course) and one of our favorite foods: pizza!
Pizza and beer are a classic, beautiful combination, and as lovers of math, beer and pizza, we wanted to explore a few other great possibilities that make pizza and beer the iconic pairing we know and love. Here are a few of our favorite pint and pie pairings, to be enjoyed any time, any where, not just on Pi Day:
Supreme pizza – Otherwise known as "Pizza from the grown-up table" when you're a kid staring down at a pizza covered in a rainbow of toppings. With time, we've come to realize we were really missing out while chowing down on plain cheese slices with the crusts cut off. The blend of all those bold ingredients – peppers, onions, olives, pepperoni, sausage – demand to be paired with an equally bold choice like Nolan, our rotating IPA. The hoppy bite of a sip of Nolan perfectly cuts through with delicious flavor without getting lost in all the ingredients.
White pizza – On the other side, sometimes your palette just isn't feeling it with all that tomato sauce. If you're in the mood for something light and creamy and smooth, settle into a pie with a bunch of different cheeses, little or no sauce, some crushed garlic, and a Belgian-Style Ale like Haddy. You'll feel refreshed and lighter than air (Or, at least, lighter than you're used to after having pizza and beer for dinner).
Margherita pizza – Feeling a little fancy? Sometimes the occasion calls for one of the more traditional Italian pies with a thin crust, fresh tomatoes, basil, and heaping spoonfuls of fresh mozzarella or ricotta cheese. Why not pump up that fancy feeling with a Sour Alani, our Rosé Ale? The sweet pucker of Alani's cranberry and hibiscus notes will naturally complement the ripeness of your tomatoes, offering the acidic balance to cut through the richness of your cheese, in a pie that just so perfectly "summer."
Buffalo Chicken – When you want to add a little heat to your pizza, why not combine your favorite comfort foods in slices of spicy, cheesy goodness? A favorite for anyone wanting to combine the delicious tastes of chicken wings and pizza, you're gonna want to head off the inevitable heartburn with something crisp to balance everything out. Enter Jude, our Belgian Tripel, with its clean citrus finish and sweet malts, and you have a pair worthy of repeating whenever your cravings for pizza and beer strike.
All Meats – When you're ready to just go for it. All the meats on your pizza, that is. Often served with pepperoni, sausage, bacon, ham, and sometimes ground beef, an all-meat pizza is a carnivore's dream. Pair all that salty, spicy, crispy goodness with our Juicy Lager, JOGR, and rock your palette even harder. You earned it.
A Classic: Pepperoni – Is there anything more classic than pepperoni? We're partial to a slice of cheesy pepperoni paired with a true classic like Cadence, our Belgian-style Ale. With hints of caramel and figs, Cadence pops in between the bold, spicy flavors of pepperoni. All day, every day, pepperoni is a true classic.